The Engagement Game
"Brutally, beautifully honest" — PEOPLE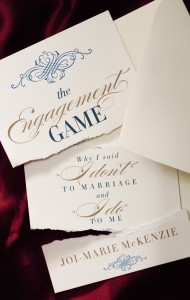 Joi-Marie almost has it all; a thriving career, a supportive family, great friends, and an apartment in Manhattan. What she doesn't have is a husband.
Ambitious, confident, and successful, Joi-Marie believes she has it all figured out. At 28 years old, she has an enviable job as a producer, covering entertainment in New York City. Her close-knit family is loving and encouraging, and her boyfriend, Adam, is as close to perfect as you can get — except for the fact that he won't propose.
After receiving a laundry list of advice on how to secure a proposal, even researching how to cook "engagement chicken," Joi-Marie realizes that in the process of trying to attain her perfect life, she has slowly become a person she doesn't recognize.
With this discovery, she must make a decision: pretend to be someone she's not in order to have the life she envisioned or have the courage to be herself and find her happily ever after in a way she never expected.
As Joi-Marie says in her disclaimer, "The Engagement Game" is not a how-to book. Instead, it's a hilarious critique of the patriarchal construct of marriage, the myth of marital privilege and singlism.
"The Engagement Game: Why I Said 'I Don't' to Marriage and 'I Do' To Me" is out now.
How to Order:

Google Play | Kobo | Books a Million | IndieBound | Indigo | Book Depository
Book Clubs:
This comprehensive 20-question guide was developed for book clubs to use while reading, "The Engagement Game." Download it here. To invite Joi-Marie to attend your book club's reading, contact Nicole Stern.
More Praise for "The Engagement Game":
"In this candid memoir…her buoyant sense of humor makes it fun to accompany her on this journey through young adulthood."
— Amy Argetsinger, THE WASHINGTON POST
"Not only an engaging read but courageous…"
— Keli Goff, THE DAILY BEAST
"Laugh-out-loud funny book…"
— Arianna Davis, REFINERY 29
"Reading The Engagement Game is like brunch with your best friend…"
— Charreah K. Jackson, ESSENCE Relationships Editor and Author of Boss Bride
"McKenzie speaks clearly to those of us who've been made to feel that a 'Mrs' title (and a properly large rock on our ring finger) means more than our professional accomplishments, our contributions to the community and even, perhaps, our happiness."
— JAMILAH LEMIEUX
"Friggin' hilarious…"
— Helena Andrews, THE WASHINGTON POST columnist and Author of Bitch Is The New Black
"Joi-Marie delivers an engaging read that celebrates independence and freedom among women everywhere."
— Lilly Workneh, HUFFINGTON POST
"A memoir that reads like your favorite weekend escapist novel…"
— Danielle Belton, THE ROOT
"This book is a must-read for any woman who's found herself frantic in love." — MADAME NOIRE
"The Engagement Game is a must-read for our time."
— Sophia A. Nelson, Award-Winning Author, THE WOMAN CODE
"A hilarious and unique take on dating that also reveals how sisterhood, daughterhood, friendship, and Spirit can lead to a deeper relationship with self and unbounded self-love."
— Chanel Craft Tanner, CENTER FOR WOMEN AT EMORY UNIVERSITY 
To Get the Latest News About This Book, Sign Up For My Newsletter!